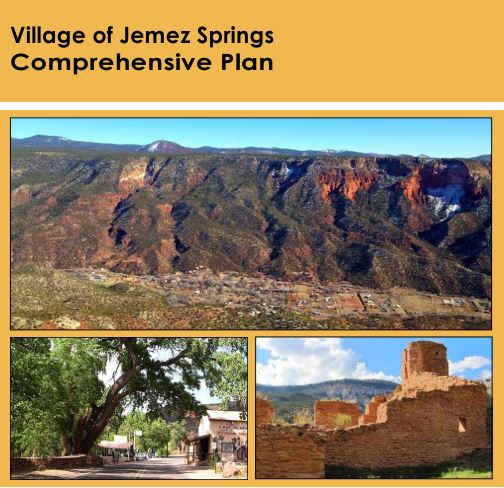 ---
Village of Jemez Springs
Planning & Zoning Commission
PO Box 87
Jemez Springs, New Mexico 87025
---
Zoning Requirements
It is important that anyone building a home or addition, placing a modular/mobile home, or a storage shed on their property must come before the Planning and Zoning Commission for approval. The applications can be picked up at the Village office. Planning and Zoning meets on the 1st and 3rd Wednesdays of each month. Fees for application is a base fee of $10 and .05 cents per square foot of structure.
Jemez Springs Planning and Zoning must sign off on any of the above mentioned projects before State of N.M. Construction Industries Division will grant a permit to begin work. The CID does not require permits for some sheds depending on size, but Jemez Springs does require an approved permit to place a shed on your property. There are setback requirements for fire and safety purposes.
The Village of Jemez Springs also has a Flood Plain Ordinance. If you live along the Jemez River you must file a Flood Plain application for any new structure, modular or mobile home (this includes sheds) The fee is $25. Application is reviewed by the Flood Plain Administrator.
If property is determined by flood plain administrator not to be in the flood plain, J.S. Planning and Zoning will be notified by letter and approved project can continue. If it is determined that your building site is located in a flood plain, you must obtain an elevation certificate from a licensed surveyor (contractors will include this certificate with your survey when building a new structure or addition), modular or mobile home movers may not.
It is your responsibility to obtain an elevation certificate. The administrator will review elevation certificate and then give elevation requirements to build your structure or place a shed. This process my include engineering or lifting your property to (1) foot above the flood plain elevation. No structure shall be placed in a flood zone without obtaining proper approval and meeting necessary requirements. The Flood Plain Administrator charges $100 to review the elevation certificate. Permits for business signs are also required. The fee is $2 per square foot.
Zoning adjustments: Change of zoning, Variances, Conditional use, Replats, Home Occupation permits are a base fee of $50 plus any fees for required certified mailings. These fees may be subject to change.
Current information may be obtained at the Village Office.